PingProperties delivers new commercial building for Lamboo Medical and Siemens at Dutch Tech Campus in Zoetermeer
23-12-2022


On 23 December PingProperties delivered a new building of around 21,000 m² for Lamboo Medical (approx. 15,500 m²) and Siemens (approx. 5,500 m²) at Dutch Tech Campus in Zoetermeer. Delivery was formally signed, in the presence of all the parties involved.
The new building is exceptionally sustainable, gas-free and with underfloor heating throughout to give an excellent working climate in the offices and commercial spaces. The sustainability theme was already the focus of attention during the preparatory work; the demolition waste from the former Siemens building that had stood on this site has been recycled to create a rubble bed on which the new building now stands. In addition, the building's facilities, including solar panels, energy storage, charging infrastructure and energy monitoring have been developed to achieve stringent energy objectives. The building has been constructed in accordance with BREEAM Very Good in Use and complies with the standards set by the EU in the Energy Performance of Buildings Directive (EPBD). It is also Siemens' ambition to implement a Smart Grid solution on the site, which can reduce greenhouse gas emissions even further.
'We are proud to bring new and current tenants together at Dutch Tech Campus in this state-of-the-art development'.  Nick van Vliet – (Re)Development Manager PingProperties
Developments on Dutch Tech Campus
To achieve Dutch Tech Campus's growth ambitions, investments are being made in development plans. In phase A, 6,000 m² of office space was renovated and made sustainable to achieve energy label A+ for Siemens Mobility and Yunex Traffic, and delivered in September 2021. Phase B involved adding exceptionally sustainable, gas-free commercial space for Topcon which was delivered in November 2021. Phase C has now been delivered: the new development of 21,000 m² for Lamboo Medical and Siemens.
Joost Lamboo, Board of Directors of Lamboo Medical: 'The new gas-free accommodation is perfectly in keeping with our sustainability ambition to be a CO₂-neutral producer by 2030'.
Joanne Meyboom, managing director of Siemens Smart Infrastructure, adds: 'The new building offers Siemens not only the ability to receive our customers in a contemporary and professional way, but also accommodation that ties in with the European Commission's sustainability objectives under the name Fit-for-55'.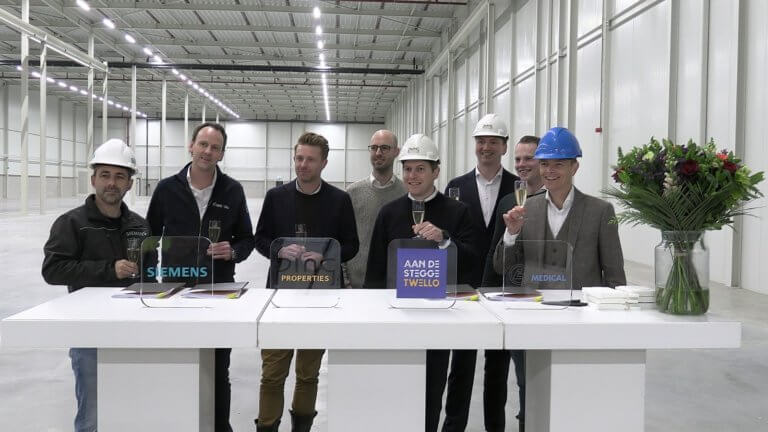 About Lamboo Medical
Lamboo Medical, a family-owned business formed in 1957, is a leader in the world of innovative mobile medical accommodations. It makes the best medical diagnoses and treatments accessible to everyone. The mobile solutions have achieved great success worldwide because of their ability to withstand extreme climate and infrastructural situations as well as poor infrastructure.
About Siemens
Siemens Smart Infrastructure (SI) is shaping the market for intelligent, adaptive infrastructure, for today and the future. SI takes on the urgent challenges of urbanization and climate change by connecting energy systems, buildings and industries. Customers benefit from an extensive, total portfolio from a single provider, with products, systems, solutions and services from energy generation to consumption. With an increasingly digitized ecosystem, SI helps customers to compete successfully and society to develop further, thus contributing to the protection of our planet.
Lamboo Medical and Siemens Smart Infrastructure fit in perfectly with other medical, mobility and high-tech companies at Dutch Tech Campus such as Siemens Mobility, Atos Medical and Topcon Europe Positioning.
About Dutch Tech Campus and Dutch Innovation Park
Dutch Tech Campus is home to national and international smart technology businesses working at the interface of Communication, Mobility and e-Healthcare. Dutch Tech Campus is part of the Dutch Innovation Park in Zoetermeer, the number one spot in the Randstad for applied innovations in the field of cybersecurity, big data, smart mobility and e-healthcare. ICT  businesses and more than 800 ICT students share knowledge in the Dutch Innovation Park, and the resulting synergy is generating innovations and new business. Dutch Tech Campus currently comprises around 44,000 m² of business accommodation in 10 buildings and will expand to around 65,000 m² in 2022.
For more information, go to: www.dutchtechcampus.nl and www.dutchinnovationpark.nl.
Go back